ABOUT
---
Canadian Lab Squad 3.0 is the current version with the addition of our Chocolate Labrador Ruger. Being born September 2, 2021 and only coming home after the pools were closed for the season, we do not yet know how he will take to the water. He has been excelling at all his other training in the interim: Retriever Field Training; Puppy Classes; Sport Classes; and Show Handling. In February 2022 at the young age of just 5 months, Ruger attained the All Breed International Dog Shows Inc's Socialization Termperament Assessment Review (STAR) Certificate of Honor plus became the first Labrador Retriever and the youngest dog to earn the rockSTAR designation; and Best Baby Puppy in Group and Best Baby Puppy in Show -- TWICE -- in his first confirmation showings. Jemma, Marleigh, Louie, Ashlyn and Amber will show Ruger what the dock is all about come Spring 2022.
Addendum: Ruger's introduction to the dock was entertaining. He ran onto the dock with all his siblings not knowing what they were excited about. He ran right along side with them. When they all jumped into the pool, he ran out of dock and fell into the pool. The was the start of his dock jumping season. Ruger is now our best jumper with a personal best of 23'11". At 7 months of age, he also got himself a volunteer job with the Haldimand County as a K9 Medic. A role he loves doing with his EMS partner.
Sadly, the Canadian Lab Squad 3.0 lost Jemma this season on the day after her 12th birthday. Her absense is very much felt by many.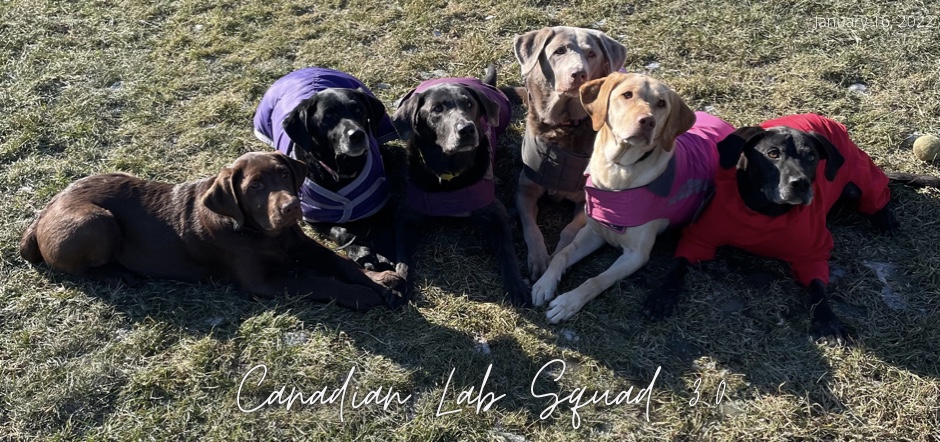 ---
In October 2016, Ashlyn and Amber were added to the Canadian Lab Squad 2.0. Spring 2017, they were introduced to dock jumping and were naturals. With the losses of Jersey and Max, Ashlyn is our highest jumper and Amber is our longest jumper. With the opening of K9 Fun Zone in May 2016, we are no longer able to travel about to competitions but enjoy watching teams on the dock here. Jemma has become our "loaner" dog that friends and family borrow and take home for her calming prescence. Everyone loves to get out on the dock and play as a group when pool time can be found in the schedule -- otherwise, they are quite happy to run in the field.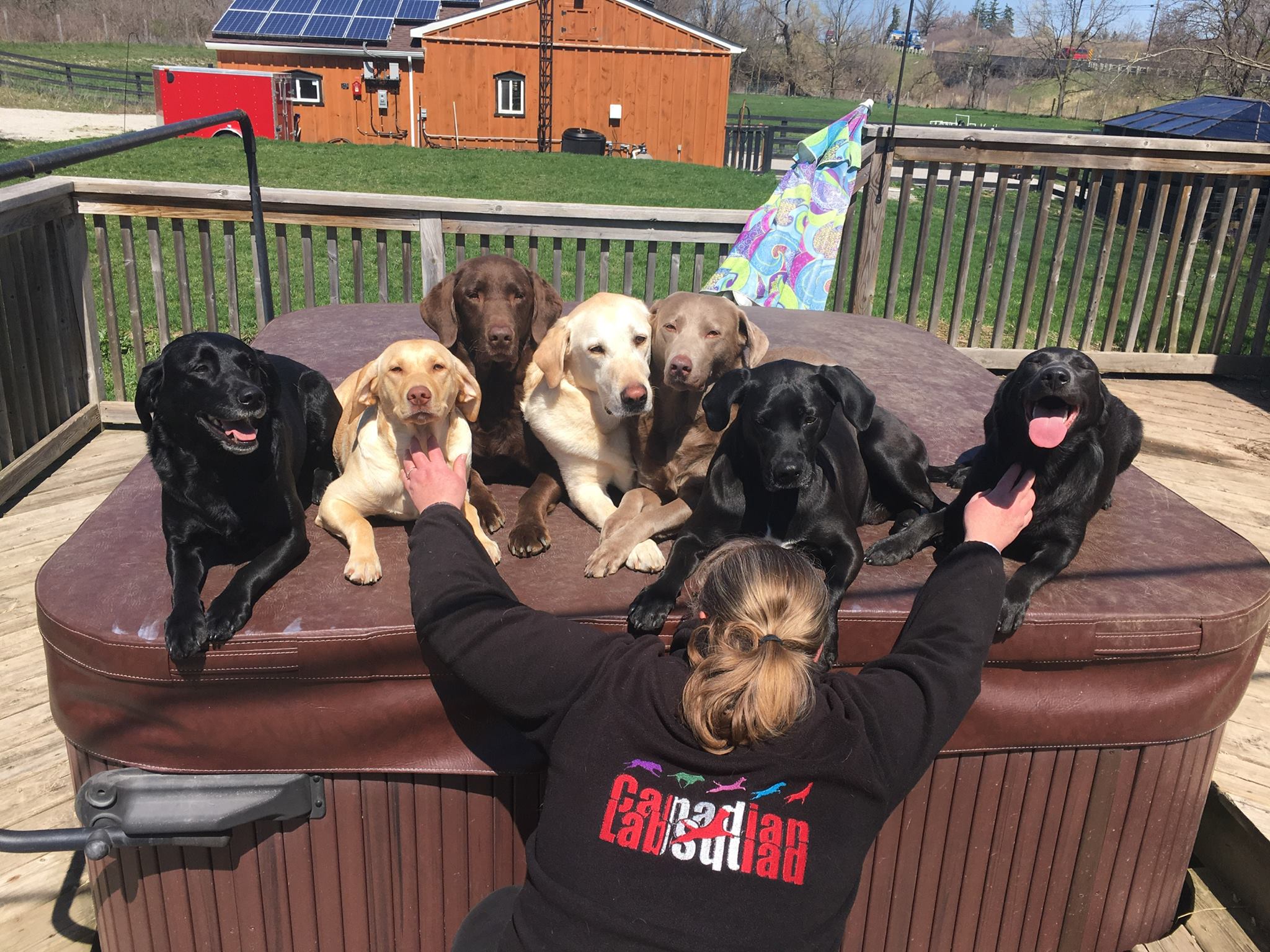 ---
Al and Mary-beth are the proud owners of the Canadian Lab Squad 1.0, five wonderful Labradors: Jersey, Jemma, Max, Marleigh and Louie. All but Marleigh are rescues with Louie coming up from Louisiana. They got hooked on dock diving in 2011 and have been actively involved in the sport as members of Ontario DockDogs with Mary-beth as a former board member and Al as a certified judge.
All five of their pups have been to the DockDog World Championship (top 24 dogs in the world for each four disciplines) the last 4 years running with over 40 individual invites in Big Air, Extreme Vertical, Speed Retrieve, Iron Dog and the new sport of Dueling Dogs. Max made it to the finals in Dueling Dogs and Jersey in Extreme Vertical. The Canadian Lab Squad has consistently been ranked in the top 10 dogs in Canada for their individual divisions.
For 2015 Louie was ranked #1 in Extreme Vertical; Louie, Max and Jersey were the top three ranked Iron Dogs in Canada.
For 2016, Louie was again ranked #1 Iron Dog in Canada with Max 4th and Jersey 7th.
All five dogs are K9 blood donors, with Louie being the "gold standard" as his blood carries the Parvo antibodies and can be used to treat dogs with Parvo.
Both Jersey and Jemma are therapy dogs, working with autistic children and library reading programs.